A weekend MADE in heaven as Doves and Legends in the Park rock up to Perry Barr
Posted on the 27th July 2019 in the category sport
There is something in the air in Perry Barr this weekend.
Music, laughter and bits of glitter blowing off girls' faces. It is festival weekend at Perry Park with MADE today and Inner City and Legends in the Park tomorrow.
Perry Park is a great spot for a festival and this year the fenced fun is taking place over by the BMX track so its even further away from "irate residents" - you know the ones, the ones who write their own placards saying they don't want new trams, buses, carnivals but they do want to keep a 1960s flyover.
Last year I lived next to Finsbury Park in London and I loved the festival days, it was so much fun watching the sheer mass of humanity leaving the park after their fun, well it was OK until one young lady came in the Twelve Pins gents and pissed all over my Converse. However, there was of course a Finsbury Park Residents Association who tried stop the joy, and even managed to stop swearing on stage! Needless to say I had to point out they, as they professed, did not speak on behalf of all residents.
Radio 1's weekender in 2005, headlined by Fatboy Slim, was the best of recent Perry Park festivals, Wireless came and went with Kanye West in a mask, and now we have these Birmingham based mega events, which hopefully become a regular fixture.
MADE is in its 6th year and its the second year the festival in its new North Birmingham home after moving from its Moseley-on-Sea (Digbeth) home, so its fun to see revellers in £100 hats and ironic t-shirts realising there are no pop-up craft beer bars or artisan coffee shops on the way to the park because Perry Barr has yet to be gentrified.
This morning at 10am I saw MADEns and a fella, all wearing some kind of iluminous get up with shiny shit on their faces in Greggs, One Stop. They were from Hereford and I welcomed them to Perry Barr before leaving them to get bored by some old dear banging on about which buzz to get to the venue.
Chase & Status are headling tonight and among the 100 plus artists include Lethal Bizzle, Hardy Caprio, Ocean Wisdom, Andy C, Kings of the Shadows, Mall Grab, Problem Central and Annie Mac. Early hours lovers of Brum cult club Sum Cellar will also be pleased George Hadley and Co will be on the 1s and 2s on the South Stage. Last entry is 4pm today and the dancing stops at 10.30pm.
Tomorrow promises to be paradise for over-30s especially. Inner City Live is being headlined by Doves with support from Johnny Marr, The Coral and Brum boys done good The Twang.
This is the only date Cheshire Indie legends Doves are playing in the West Midlands this year and their live shows are on a par with their consistently good albums and singles like There Goes The Fear, Pounding and Black And White.
Inner City Live have put some epic events on in Digbeth over the last few years including a memorable turns from Flaming Lips, Orbital and The Stranglers. Get tickets for Inner City Live here - www.innercitylive.co.uk.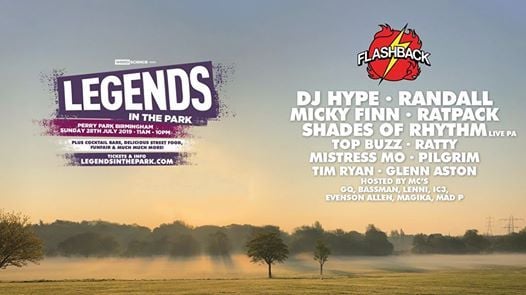 I, however, will be scorching the grass with my 43-year-old crazy legs at Legends in the Park.
There are more Birmingham 1990s club legends in the line up than a Tony De Vit house party.
The sheer talent on show demonstrates that Birmingham was a main player in UK clubland despite always being ignored in any documentary about the rave scene which concentrate on
the M25 and Manchester, for some reason.
Flashback, the rave revival night which first outing in Wobble's upstairs in 1997 I attended as well as its unforgettable Q-Club debut a few years later, is hosting a stage, as are the grown up glamour kids of Miss Moneypennies and those Sabbath shape throwers Sunddissential and Polysexual.
Also dropping more beats than a shoplifter with Parkinsons running away from an Apple store are Jeremy Healy, Sonique, Ratpack, Shades of Rhythm, Jim 'Shaft' Ryan, Tall Paul, DJ Hype and Fergie.
And it would not be a Birmingham rave if the man whose had more birthday parties than a some loaded 80-year-old triplets was on the bill - Bassman.
Moon landings musical celebration Inter Stellar was out of this world
Posted on the 21st July 2019 in the category sport
"The moon landings mate? Never happened!"
You know the type, the human race's greatest achievement which took £40 billion and 30,000 people did not happen, because Nigel from Stechford reckons the flag had a shadow.
The fact the Russians, who had greatest ever spying organisation ever created, the KGB, had infiltrated the US elite and never said it was fake, because they knew how close they were to putting Cosmonauts on the moon, is lost on him.
And that you can go to a huge telescope and look at the space litter NASA left on the moon WITH YOUR OWN EYES does not matter to Nigel, who is so thick he thinks every documentary he watches on YouTube is true.
Across the world last night there were celebrations to mark the 50th anniversary of that biggest "small step" in history. Birmingham Cathedral hosted Inter Stellar, presented by the Secret Symphony, to mark the epoch-defining event.
The 50 piece Limelight Orchestra were performing "all things space, stars and inter stellar" and the cathedral was packed for the concert.
All day I avoided moon documentaries as I thought there would be some moon action. I was hoping for a screen with Neil and Buzz bopping around in the sea of tranquility or as there was a "3D hologram show" perhaps Chewbacca would turn up in his birthday suit. But if there were holograms I could not see them from my seat.
As it was, the entertainment was strictly musical in St Philips Cathedral as Limelight went through a space themed set list which boldly went where no orchestra has probably ever been before. David Bowie and Elton John's Starman and Rocket Man were successfully launched into a brave musical stratosphere and then testing the out there nature of exploration the orchestra went for a medelee of 2001 Space Odyssey (the drummer must have been looking forward to it all week), Walking on the Moon and maybe (according to my friend) a bit of Bergerac.
As Limelight, led by a wise-cracking conductor, went for an arrangement of "obscure" 1996 hit Spaceman (Space, man!) by Babylon Zoo it seemed anything was on the table; maybe an easy listening version of Prodigy's Out of Space or a bonkers bassoon reprise of Bad Moon Rising.
But instead of going down the obvious route of The Carpenters Top of the World (looking down on creation) and Calling Occupants of Interplanetary Craft they veered off down a galactic vortex of Muse and Jamiroquai. The arrangements for Starlight and Cosmic Girl were fantastic allowing everyone in the orchestra to put their rocket boosters on to increase the volume and intensity.
Singers took turns to sing their favourite space themed but the women really hit the high notes during a fantastic rendition of Pink Floyd's Dark Side of the Moon and the fantastic lighting show really added to the atmospheric tune bathing the historic venue in blues, yellows and everything in between.
Public Service Broadcasting's incredible masterpiece Go! uses the voices of Nasa controller Gene Kranz and his colleagues to incredible effect and as it was the 50th anniversary of the moon landings it was a shame they could not have been used in last night's brilliant live version as it would have been stratospheric.
However, I am being over-critical as I am a moon landings nut. As the two hour show culminated the audience were ready to blast off with the orchestra for the last few numbers and ELO'S Mr BlueSky and Simply Red's Star's got those in the church pews swaying.
The highlight of the show was an epic version of 1980's hair bear band Europe's The Final Countdown. The Limelight Orchestra truly went for it, the singer belted out, what are lets face it awful lyrics (who rhymes Venus with 'See us') and the guitarist shredded like he was playing to wake up Ozzy Osbourne from a slumber instead of being in the stained glass majesty of a cathedral. I will never be able to listen to The Final Countdown the same again.
Men landed on the moon, it is a fact, and it was wonderful to mark the occasion with the "out there" Limelight Orchestra.
You can catch Inter Stellar at Nottingham's Motorpoint Arena on July 27, Coventry Cathedral on August 23 and Lichfield Cathedral on August 31.
John McCain's concession speech made him an American hero
Posted on the 4th September 2018 in the category sport
John McCain dying has brought back a lot of memories for me of Barack Obama's victory in 2008.
Now history seems to have remembered Obama's victory by the numbers but at the time the country was on a knife-edge.
I had spent weeks volunteering for Obama in Florida and when America went to the polls there were credible questions about what would happen. Had Americans told pollsters they would vote Obama so not to appear racist but then vote the white man in the booth.
If it went down to Florida like 2000 would the army of Democrat lawyers stop the Republican sharp suits stealing the election. If the Republicans won the election by questionable methods would there be rioting?
I spent election night at the official Democrat Florida Party in Jungle Island, Miami. Looking back John McCain's concession speech was a seminal moment in that election and in American history. After the shenanigans of 2000 the concession speech took on an even more important role, when a candidate conceeds that's that. And for all the people on the losing side they need to hear their candidate say its over and thank them.
Hence, in 2016 when a shocked America watched in disbelief as Donald Trump won the election the country needed to hear Hilary Clinton speak, and concede and thank the milions who helped her, She stayed silent, which was unforgivable, her heartbreak at her own ambition's failure overtook the good of the nation she wanted to lead.
I have watched the concession speech since he died and it was as good as I remember it. He framed Obama`s victory in historic terms setting up the new President`s Chicago victory speech perfectly.
McCain would have been told if he played the race card in the election he would have a better chance of winning. And seeing how Donald Trump`s dog whistle turned into a elephant horn during Obama`s presidency the nasty voices in the former Vietnam hostage`s ears would have been right. But he did not succumb, how many politicians have the moral fortitude to do what is right when doing the wrong thing would clinch them their life`s ambition and the world`s biggest political prize? Not many. Remember. that nice guy with a super smile who was up against Sadiq Khan for London Mayor. One of many politicians down the years who did not have McCain`s morals.
Below is an extract of my book - Obama and Me: The Incredible True Story of a YouTube Sensation (5 star Amazon review) of when McCain made his historic concession speech.
"I looked at the massive TV screens and saw the pictures of people going crazy across America. Waves and waves of goose bumps rushed over my skin and the hairs on my neck stood for attention for minutes on end as the enormity of the situation hit me.
Against all the historical odds a mixed race man was President of the United States of America. The good guys had won, and just to see so many people go crazy in the streets was fantastic.
It was one of those all too rare moments in which you see young and old celebrating like there was no tomorrow, and all because of politics. I could tell this night was never going to end and that no-one would be going home early because the adrenaline would have stopped any sane person sleeping.
Music would blast from the sound system in no particular order and forno particular reason, but every time there was quiet you knew something important was happening. A hush descended across the room and all the televisions showed the same image –John McCain.
He was just about to concede in this most historic of elections.McCain was speaking in Phoenix and everyone in our room was waiting to see what he was going to say. His wife was at his side as well as Sarah Palin, who looked gorgeous in a shiny blue power suit.
A cheer went up in the room when he said he'd just phoned Barack Obama to congratulate him on winning the election. However, the reaction in Arizona was very different. As soon as Barack Obama's name was mentioned the all white audience began booing. Everyone around me started to laugh because the Republicans were obviously hurting.
To McCain's credit he motioned to his supporters to shut up and went on to give the best speech of his life, clearly aimed at uniting America. Within a few moments he was acknowledging the enormity of a black man being elected to the White House, 100 years after the uproar that greeted President Theodore Roosevelt inviting Booker T Washington to dinner, and referencing the 'cruelty of those times'.
After about three minutes of the speech I had a panic attack. I realised I hadn't being taking notes. I went to grab my notebook but realised I didn't have one, then searched for a pen in my pocket and realised I didn't have one of those either. My worries passed though; I assumed I'd be able to pick up the exact wording of some of his most important quotes on the BBC or CNN when I compiled my report.
I smiled as I thought about the number of times someone had said to me "What, a journalist without a pen?" and again, not for the first time in America, I thought 'Oh, fuck it, I'm not being paidto be here.'
Instead of worrying I just savoured the moment and took in every word of John McCain's historic 10 minute speech. What I found fascinating was that none of the Democrats around me mocked the old war hero.
I think people realised he was a goodman and not a Republican in the image of George Bush or Karl Rove. However, when he said that there was nothing more he could have done to have won the election I disagreed.
He could have played the race card, like many racists in his party wanted him to,but he resisted because he knew it could have torn America apart.
He might have won more votes, but he must have known that if the forces of bigotry were unleashed in his campaign it could well have opened a Pandora's Box of racial tension.
For his courage and his decency, to me John McCain is an American hero.
I felt goosepimples cover my skin as I watched his speech. It was a perfect way to concede an election.When he finished speaking a round of respectful applause went around the room and everyone near me commented on what a great speech it had been.
It was all the sweeter because it meant that Obama had really won.
Even the most pessimistic conspiracy theorist in the room couldn't have denied that Obama was going to be President. I took the last few gulps of my rum and coke and again congratulated myself for being in America at that moment in history, before heading off to get more drinks. I was overjoyed that Kale was coming the other way with a double rum and coke for me.
I gave him another big hug, as much for the drink as for the fact that we'd helped Barack Obama win the election of elections.
"