The historic day The Peaky Blinder pub made its darts league debut
Posted on the 6th September 2019 in the category sport
If you would have told me six months ago as summer draws to a close I'd be playing darts in deepest Blues country every Wednesday I would not have believed you. If you had told me I actually cared what happens in the Camp Hill and District Darts League I'd have called you mad. If you'd told me I actually enjoyed being in a darts team I'd not have believed you. If you the said I'd have a silly grin on my face throughout the night because an amazing woman loves me I would not have dared believe you. But life can be amazing. This is my first ever match report for the Peaky Blinders darts team.
The Dale End air hung thick with anticiptation as The Peaky Blinder were about to make their debut in the Camp Hill and District Darts League.
The ragtag band of dreamers, schemers and drinkers who had hastily agreed to take up arrows after promises of pork pies and immortality were staring defeat in the face with a smile.
They were up against the highly fancied Emerald Club who had their own named t-shirts, even brought their own fan.
They spoke in a different language, of darts banter, oche one-liners and whispers of regulations and rules, where as the Peaky Blinder team were chatting about anything but rules.
Smoothie Sean, who that Sunday stunned the pub with a note-perfect version of Tennessee Whisky, was captain fantastic welcoming our guests with class and aplomb, he even got a cheer from the bloke with no tongue.
What a team Sean was in charge of that famous first night, in years to come, the shit ones might be booted to the side, the slackers might be sacked, or stars poached by the fucking Roost, but everyone on that Wednesday night will be able to say: "I was there on the first night."
Bolshy and fearless like The Dirty Dozen on acid this flight team could only be tamed by Brum's very own Lee Marvin - Sean. Neither wanting or needing his new charges the maverick major worked out what each man's motivation would be to take a dart in the face for their new comrades-in-arrows.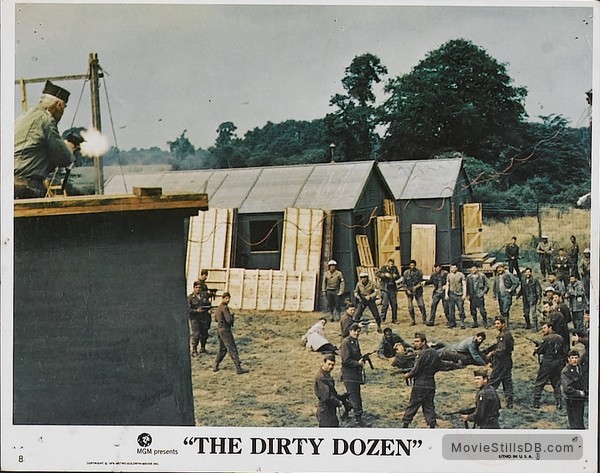 Representing the 1940s was "Andy Capp" Carl who wore cap before Peaky Blinders was a TV series, he had the honour of throwing the first dart in anger. His calming 'been there done everything before' demenour helped give the Blinders a cache of competency.
Then there is Paul, who is known for being capable of drinking 200 beers in 20 minutes, before the match he was all "I'm rubbish" only to end man of the match and then revealing he used to play in the Superleague singles.
If only we all had the enthusiasm of Graham who was at the first meeting of the Camp Hill and District Darts League on Sunday, September 18, 1978 as an eager 13-year-old.
Graham, whose mom the first woman to hit a 180 in the league, was playing his first match since losing a finger eight years ago in a scrap yard accident, and who must have used the compo to pay for his Hollwood Smile.
He was up against their best player, but his talent is their for all to see. Whilst outside having a fag telling their captain he was the best marker in the league the Emerald team were complaining about him not being the best marker in the league.
Sean, who also has a darts background, gave us the first leg win of the night with an epic three darts finish which made the Emerald Club sit up and notice, the whitewash might not be on after all.
Tommahawk Tom who now holds the title for "most tattooed player" in the league was up against a bloke who boasted he used to play in a league every day of the week like that was something to be proud of.
Despite being on the end a 180, the steel in Tom's eyes showed he will be practising a lot, he aint used to losing in life.
Then we had man mountain Andy who's hand-eye coordination was honed throwing midget Glaswegian Johnny Concretes out of social clubs in Govan. The big man brought his mrs, who cooked us cakes, with him and was happy to proclaim his love for her as the Emerald team debated tactics, he's the winner in life.
Then there is Sensitive Steve, who thought the whole darts thing was a bit of a laugh until he went the league meeting and was surprised as anyone else when he kicked off when the Peaky Blinder, who should have been welcomed for giving a dying pub game's league a boost, was besmirched.
Delighted his rare zipping sleeved jacket would now have another use only to be told league rules demanded no jackets, he refused to practice so "not to waste his luck".
Sensitive Steve was genuinelly hurt when both Emerald player refused to look him in the eye at the start of the doubles only to find out they did not even look each other in the eye.
Standing on the oche he realised there was more chance of him buying a double than hitting one. All that talk at the league meeting about his auntie dominating the North Wales Women's Institute League between 1986-1996 counted for nothing. But he hit the highest score so IF THERE IS ANY FUCKING JUSTICE IN THE WORLD he and Andy will be paired again (sorry Andy).
Between their "Danter" (darts banter) the Emerald team shot more concerned glances to each other than a posh couple at a traveller wedding. First there was the geezer who had tightened pubes for hair who kept on trying to walk across the game, then our marker mucking up and then the bloke with no tongue who was yelping like he was gonna get the ride after somehow chatting up a bird without being able to speak.
The Peaky Blinder lost on the night but under the watchfull eye of "I was holding my breath" Dee the night ended with promises of greatness and practice, and free food.
The first night felt like a win despite a 10-6 defeat on legs.
Nothing beats the first day back in the big time!
Posted on the 17th August 2019 in the category sport
The first game of the season is always special, especially when the sun is out.
Ok, we got a harsh Premier League lesson but for a club (who invented the world's first football league) it was great to be back in the big time.
I went for coffee with my mate Jimmy Davis (T8PES) at One Stop (first time for everything) and he had a spare ticket for the McGregor Suite in the Trinity with his wonderful family.
Seeing all the McGregor memorabelia really was great, a timely reminder that we invented this shit!
Kick off was goose pimple raising, spine tingling stuff. But then 45 seconds reality set in.
McGinn's passing was off and Super Jack looked anything but super. Wesley looked like it was his second game in a faster league than he is used too. But despite the stepover which led the goal, Douglas Luiz looked our a best player. What a find he is.
And what a goal, what a celebration that was. It felt brilliant. Considering Bournemouth started playing for time in the 25th minute we had a good go. The signs are there, I refuse to believe there are any must win games at this stage of the season but we can't afford to lose against Everton on Friday night.
I loved the Championship which is so much better than the Premiership for excitement but we've got the cash to make a dent in the league.
I loved seeing so many familiar faces, I've been going down the Villa for 35 years now, it is and always was, is, and will be a big part of life. I also enjoyed seeing the Welsh manager and Scottish manager at the game. Even managed to get a picture with Ryan Giggs, who to be fair is one good looking geezer.
I've left London now, so can pop into pubs to see away games and hopefully go to a lot of home games. It is great to be back home. I knew it would be.
The Comeback of Steve Zacharanda is gathering pace, professionally and, most importantly, personally.
A weekend MADE in heaven as Doves and Legends in the Park rock up to Perry Barr
Posted on the 27th July 2019 in the category sport
There is something in the air in Perry Barr this weekend.
Music, laughter and bits of glitter blowing off girls' faces. It is festival weekend at Perry Park with MADE today and Inner City and Legends in the Park tomorrow.
Perry Park is a great spot for a festival and this year the fenced fun is taking place over by the BMX track so its even further away from "irate residents" - you know the ones, the ones who write their own placards saying they don't want new trams, buses, carnivals but they do want to keep a 1960s flyover.
Last year I lived next to Finsbury Park in London and I loved the festival days, it was so much fun watching the sheer mass of humanity leaving the park after their fun, well it was OK until one young lady came in the Twelve Pins gents and pissed all over my Converse. However, there was of course a Finsbury Park Residents Association who tried stop the joy, and even managed to stop swearing on stage! Needless to say I had to point out they, as they professed, did not speak on behalf of all residents.
Radio 1's weekender in 2005, headlined by Fatboy Slim, was the best of recent Perry Park festivals, Wireless came and went with Kanye West in a mask, and now we have these Birmingham based mega events, which hopefully become a regular fixture.
MADE is in its 6th year and its the second year the festival in its new North Birmingham home after moving from its Moseley-on-Sea (Digbeth) home, so its fun to see revellers in £100 hats and ironic t-shirts realising there are no pop-up craft beer bars or artisan coffee shops on the way to the park because Perry Barr has yet to be gentrified.
This morning at 10am I saw MADEns and a fella, all wearing some kind of iluminous get up with shiny shit on their faces in Greggs, One Stop. They were from Hereford and I welcomed them to Perry Barr before leaving them to get bored by some old dear banging on about which buzz to get to the venue.
Chase & Status are headling tonight and among the 100 plus artists include Lethal Bizzle, Hardy Caprio, Ocean Wisdom, Andy C, Kings of the Shadows, Mall Grab, Problem Central and Annie Mac. Early hours lovers of Brum cult club Sum Cellar will also be pleased George Hadley and Co will be on the 1s and 2s on the South Stage. Last entry is 4pm today and the dancing stops at 10.30pm.
Tomorrow promises to be paradise for over-30s especially. Inner City Live is being headlined by Doves with support from Johnny Marr, The Coral and Brum boys done good The Twang.
This is the only date Cheshire Indie legends Doves are playing in the West Midlands this year and their live shows are on a par with their consistently good albums and singles like There Goes The Fear, Pounding and Black And White.
Inner City Live have put some epic events on in Digbeth over the last few years including a memorable turns from Flaming Lips, Orbital and The Stranglers. Get tickets for Inner City Live here - www.innercitylive.co.uk.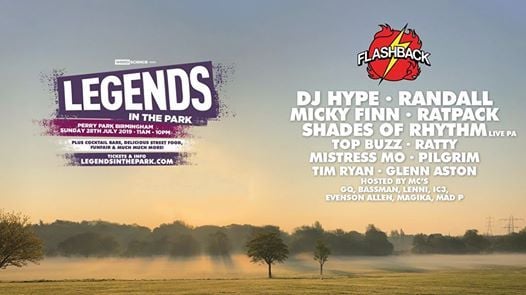 I, however, will be scorching the grass with my 43-year-old crazy legs at Legends in the Park.
There are more Birmingham 1990s club legends in the line up than a Tony De Vit house party.
The sheer talent on show demonstrates that Birmingham was a main player in UK clubland despite always being ignored in any documentary about the rave scene which concentrate on
the M25 and Manchester, for some reason.
Flashback, the rave revival night which first outing in Wobble's upstairs in 1997 I attended as well as its unforgettable Q-Club debut a few years later, is hosting a stage, as are the grown up glamour kids of Miss Moneypennies and those Sabbath shape throwers Sunddissential and Polysexual.
Also dropping more beats than a shoplifter with Parkinsons running away from an Apple store are Jeremy Healy, Sonique, Ratpack, Shades of Rhythm, Jim 'Shaft' Ryan, Tall Paul, DJ Hype and Fergie.
And it would not be a Birmingham rave if the man whose had more birthday parties than a some loaded 80-year-old triplets was on the bill - Bassman.