Gather round! The Premier League is about to make a show of itself
Posted on the 3rd May 2020 in the category sport
There might not be any sport on television now but get ready for a free to air footballing spectacle.
Over the next few weeks the Premier League will prove it is the worst league in the world.
The coronavirus pandemic betrays the true colours of wrong 'uns, whether it be individuals or on a corporate level, we know them, that friend whose gone down a 5G rabbit hole or the celebrity who believes their "winning mentality" makes them immune from a virus.
The French, Belgian and Dutch top flights have all been cancelled, kaput. Over. It's just a game, people are dying.
Whereas the Premier League is embarking on "Project Restart" to get the league started on June 8. The lack of self-awareness and tone deafness to the tragedy engulfing the world is breathtaking. Football clubs began in the 19th and 20th Centuries rooted in their community, and people in those communities are now are dying.
Who gives a shit about a game? Do you think Pep Guardiola is mithering about how Man City can catch Liverpool in the title race or grieving for his mother who died of this terrible, indiscriminate killer.
English fans have long been seen by the league as customers to rip off through eye-wateringly high ticket prices and billion pound television deals which never include free to air matches and kick off times which never take into consideration away supporters. Would it be too hard for local derbies to be played on Boxing or New Year's Day (when buses and trains often don't run) like none leagues, other countries and the old first division did.
Over the next few weeks the top bods at EPL will demonstrate how horrible they are. The desperation they are showing to finish the league is like a balding man trying to keep his hair by spending a week's wages on products from bringitback.com.
They are ignoring every 2020 actuality and inevitability to make money, the safety of their own players and staff, the calendar which is leaving season behind, that coronavirus is here to stay and world's other leagues facing this new reality and ending their seasons.
Those teams not vying for a title or trying to avoid relegation will probably want to start building for next season and not risk their squad's safety for the benefit of other clubs.
"What about poor Liverpool?" is the common refrain from football pundits. They are so far ahead in the league of course they deserve to be crowned champions. But life isn't fair, ask a silver haired Covid-19 patient in Royal Liverpool hospital as they stare at the "do not resuscitate" sign on the end of their bed if life is fair. Or if Bill Shankly's pithy one liner about football meaning more than life and death rings true?
And Liverpool have their reasons for the league to be cancelled. If those two games to bring every team up to 28 matches played are played out and they are presented with the title, by a naff tweet, then they waited 30 years to win 8/10ths of a title, unlike every other champion.
Everyone knows they deserve the title this year and in everyone's minds they will be, a kind of "people's champions". Liverpool is a city that loves feeling hard done by and this will add to that historical emotional narrative. They see themselves as a city apart, they are Scousers before Englishmen, the legacy of British Government sailing its Navy gunboats down the Mersey and training their guns on an English city to quell industrial unrest.
But no-one could deny Liverpool were hard done by if the league is void. Their quest to win that elusive first Premiership title will be sprinkled with a moral superiority, next season they might even be everyone's second team.
However, there could be a very different scenario which would see this all conquering team with the likable German manager could easily become public enemy number one.
Imagine if Liverpool are one goal away from clinching the resumed title in the summer. The ground might be empty but houses across Merseyside will be packed with friends wanting to see history together. During Covid-19 restrictions, which everyone else in the country is sick and tired with.
Then West Derby lad Trent Alexander-Arnold scores a last minute winner and unconfined joy will immediately spill out on the streets. Imagine scenes of sweating, hugging fans been beamed around the world. Oh, and what if Sadio Mané scores the winner and his legion of fans in Senegal get together and cause a massive spike in cases. Same goes for Salah's worshippers in Egypt.
The joy will be very hard to suppress, this will 30 years of hurt being overturned. Jurgen Klopp could plead with his supporter base to stay indoors but he will have about as much success as a single security guard trying to stop shoplifters in Liverpool One's Debenhams during a power cut. Players could send out personalised videos to fans telling them to stay indoors and that creepy Fred dude would have more chance stopping a Tsunami on his floating map in Albert Dock whilst trying to feel up a teenager.
There will be no league winner's parade, and it will not be a celebration fit for the end of a 30 year wait, that emotion can't be repeated, unless they don't win it till 2050. It would like being invited to a wedding only to find out its teetotal. Football is about sharing emotion, friendships are forged through experiences together, glory-hunters watching games on their own in an armchair never get that, and miss out on the best bit of football, they will be demanding the league resume.
If any prizes are to be given out then two games need to be played, those four clubs that have played 28 games compared to the rest on 29. Aston Villa v Sheffield United and Arsenal v Man City. But there are many factors in winning games, some teams have played less home games and they will lose that advantage in a neutral stadium. Some teams have played better teams than the others, Brighton have yet to face Liverpool, Man City, Leicester City, Arsenal and Manchester United, with four of those games at home.
The Premier League does not care about the safety of the players, if they did they would not even think about resuming matches. Players will have to be tested twice a week which will go down well with those with Covid-19 symptoms and unable to get a test for love nor money. As Brighton striker Murray said that playing in face masks would be "farcical" and the ambulances at the matches could be better deployed in the NHS. The fat cats that own clubs were happy to see players become the Coronavirus Scapegoats of the Week last month when flipflopping Health Secretary Matt Hancock saw a populist opportunity to pile onto working class lads made good. The no-chinned melt even did not check how much his government's exchequer would lose if footballers took a 30% cut.
However, as Wayne Rooney pointed out why should they take a cut in wages to help their billionaire club owners and how did they know the money would go to the NHS? A multi-millionaire arguing with billionaires, which is perfectly encapsulates the state of English football now. And Premier League club owners are a who's who of world class wrong 'uns. Fossil fuel extractors, human rights violators, dictators, financial fair play rule benders and that's just Man City. World Cup bribers, fundamentalist tract subscribers, robber barons, women emancipation deniers, sodamisers and Mike Ashley.
The Champions League teams are usually preordained before the season but this year Leicester City have gate-crashed the party and they will feel hard done by if they don't qualify. It would make sense for those in the positions now to qualify. Where it gets messy is relegation. There will be a £100m consequence for relegated clubs. And you can bet whatever happens this season will be decided in a court room.
The Football League are close to announcing the Championship and the lower leagues will not be resumed and as player contracts are up on June 1 all the best players in that league will return to their Premier parent clubs. And if the lower leagues are not resuming then it will be easier to ensure no relegation or promotions will happen, as in the Dutch league. It will be grossly unfair on West Brom and Leeds but there will have to be losers whatever the outcome, that said I'd be happy with 22 top flight next year.
I have to admit I have a horse in the race, I'm a Villa fan, and we are close to clinching a place in the best league in Europe, a league where the top two are not blatantly obvious before a ball is kicked, where the final standings are not a mirror image of the wages spent league, two games a week and the majority of away games are an hour away from Birmingham – the Championship!
The French Government have taken the decision out of League One's hands but weirdly the UK Culture and Sport minister said the other day he wants the EPL started "as soon as possible." Which like so many other things coronavirus related is totally at odds with other Governments around the world. At least pandemic has finally put pay to any sane person trying to argue about British and American exceptionalism, the body counts at the end of this will be an unarguable fact.
You will start hearing phrases like "large contracts honoured" and "lucrative sponsorship deals in danger" as the money men who run the EPL get more and more desperate to restart the league. They might dress it up as "fairness", "the football family", "keeping the fans happy", "helping the nation's morale" and classic of the genre "helping grassroots football" when it is about one thing, and one thing only – cold hard cash.
The ticket paying Premier League football fan is further down the list of club owners' priorities a conference call with a Cambodian electrician to make sure the "product" is beamed correctly into the homes of his "emerging market" so the fans can see the shirt sponsors clearly.
If this was not the case then why would Operation Restart be planning for matches without fans?
Those smattering of games in empty stadiums before the lockdown proved how important fans are. During the Wolves match in Greece, I instinctively stuck my arse out and protected my Strongbow can on the way back from the fridge when I heard Connor Coady scream "Man On" for the umpteenth time.
Those empty stadium kick abouts reminded me of playing football with work mates, the managers always seem to think their seniority carries onto the football pitch and begin shouting "track back" at flair/playing for fun players like myself, in a word, it was all a bit weird.
To use the parlance of the money men say about football - a piss poor "product."
On Friday the owners of the 20 league clubs, who've won the football equivalent of a rollover lottery to be in the EPL when the latest broadcasting deal was struck, had a zoom chat to work out how to restart the league. The top of the food chain PR bods released a statement, I have taken the trouble to translate it into pub-speak.
At a meeting of Premier League Shareholders today, clubs discussed possible steps towards planning to resume the 2019/20 season, when it is safe and appropriate to do so.
Lets write as many words as we can to say we are planning to resume the league, isn't "discussing possible steps towards planning" just planning?
It was reiterated that the thoughts of all are with those directly affected by the COVID-19 pandemic.
Ah, people are dying, we better mention them without mentioning the "D" word.
Furthermore, the Premier League's priority is the health and safety of players, coaches, managers, club staff, supporters and the wider community.
We care about everyone, anyone, but mostly the players and managers because we need them to restart the league.
The League and clubs are considering the first tentative moves forward and will only return to training and playing with Government guidance, under expert medical advice and after consultation with players and managers.
We will brownnose the Government, pay some experts to say what we want them to and either promise or threaten the players and managers to play again.
The League welcomed the creation of the Government medical working group for a return of elite sport, which met for the first time this morning.
Oh, this can kill two birds with one stone, who are these medical bods, lets "sponsor" some future research.
No decisions were taken at today's Shareholders' meeting and clubs exchanged views on the information provided regarding "Project Restart".
We decided to restart the league.
It was agreed that the PFA, LMA, players and managers are key to this process and will be further consulted.
The league can't actually begin again without the players and managers, and though we have not mentioned the agents they will be key to getting their players to risk their health so we will ensure they can still earn astronomical amounts for transfers and making sure young players know how to wipe their bum properly.
The clubs reconfirmed their commitment to finishing the 2019/20 season, maintaining integrity of the competition and welcomed the Government's support.
We are going to restart the league.
Despite all that, the Premier League has 92 remaining games, that will be three a day to conclude the season in one month. This was meant to be a European Championships summer but we have been robbed of that. How good will be three televised games a day be? It will be like the first two weeks of a World Cup. And as the league is being resumed to help "the morale of the country" they will surely be on terrestrial telly.
Surely?
The historic day The Peaky Blinder pub made its darts league debut
Posted on the 6th September 2019 in the category sport
If you would have told me six months ago as summer draws to a close I'd be playing darts in deepest Blues country every Wednesday I would not have believed you. If you had told me I actually cared what happens in the Camp Hill and District Darts League I'd have called you mad. If you'd told me I actually enjoyed being in a darts team I'd not have believed you. If you the said I'd have a silly grin on my face throughout the night because an amazing woman loves me I would not have dared believe you. But life can be amazing. This is my first ever match report for the Peaky Blinders darts team.
The Dale End air hung thick with anticiptation as The Peaky Blinder were about to make their debut in the Camp Hill and District Darts League.
The ragtag band of dreamers, schemers and drinkers who had hastily agreed to take up arrows after promises of pork pies and immortality were staring defeat in the face with a smile.
They were up against the highly fancied Emerald Club who had their own named t-shirts, even brought their own fan.
They spoke in a different language, of darts banter, oche one-liners and whispers of regulations and rules, where as the Peaky Blinder team were chatting about anything but rules.
Smoothie Sean, who that Sunday stunned the pub with a note-perfect version of Tennessee Whisky, was captain fantastic welcoming our guests with class and aplomb, he even got a cheer from the bloke with no tongue.
What a team Sean was in charge of that famous first night, in years to come, the shit ones might be booted to the side, the slackers might be sacked, or stars poached by the fucking Roost, but everyone on that Wednesday night will be able to say: "I was there on the first night."
Bolshy and fearless like The Dirty Dozen on acid this flight team could only be tamed by Brum's very own Lee Marvin - Sean. Neither wanting or needing his new charges the maverick major worked out what each man's motivation would be to take a dart in the face for their new comrades-in-arrows.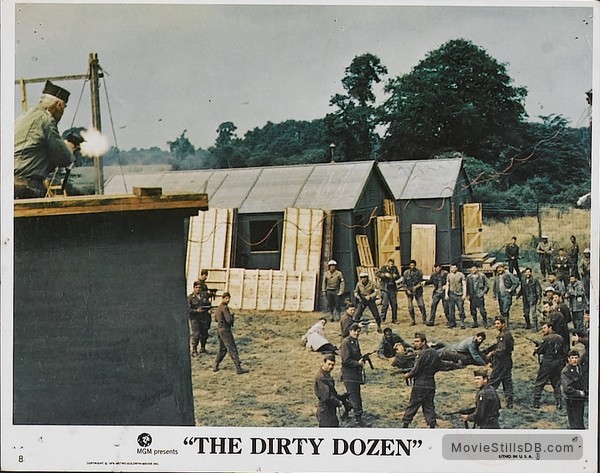 Representing the 1940s was "Andy Capp" Carl who wore cap before Peaky Blinders was a TV series, he had the honour of throwing the first dart in anger. His calming 'been there done everything before' demenour helped give the Blinders a cache of competency.
Then there is Paul, who is known for being capable of drinking 200 beers in 20 minutes, before the match he was all "I'm rubbish" only to end man of the match and then revealing he used to play in the Superleague singles.
If only we all had the enthusiasm of Graham who was at the first meeting of the Camp Hill and District Darts League on Sunday, September 18, 1978 as an eager 13-year-old.
Graham, whose mom the first woman to hit a 180 in the league, was playing his first match since losing a finger eight years ago in a scrap yard accident, and who must have used the compo to pay for his Hollwood Smile.
He was up against their best player, but his talent is their for all to see. Whilst outside having a fag telling their captain he was the best marker in the league the Emerald team were complaining about him not being the best marker in the league.
Sean, who also has a darts background, gave us the first leg win of the night with an epic three darts finish which made the Emerald Club sit up and notice, the whitewash might not be on after all.
Tommahawk Tom who now holds the title for "most tattooed player" in the league was up against a bloke who boasted he used to play in a league every day of the week like that was something to be proud of.
Despite being on the end a 180, the steel in Tom's eyes showed he will be practising a lot, he aint used to losing in life.
Then we had man mountain Andy who's hand-eye coordination was honed throwing midget Glaswegian Johnny Concretes out of social clubs in Govan. The big man brought his mrs, who cooked us cakes, with him and was happy to proclaim his love for her as the Emerald team debated tactics, he's the winner in life.
Then there is Sensitive Steve, who thought the whole darts thing was a bit of a laugh until he went the league meeting and was surprised as anyone else when he kicked off when the Peaky Blinder, who should have been welcomed for giving a dying pub game's league a boost, was besmirched.
Delighted his rare zipping sleeved jacket would now have another use only to be told league rules demanded no jackets, he refused to practice so "not to waste his luck".
Sensitive Steve was genuinelly hurt when both Emerald player refused to look him in the eye at the start of the doubles only to find out they did not even look each other in the eye.
Standing on the oche he realised there was more chance of him buying a double than hitting one. All that talk at the league meeting about his auntie dominating the North Wales Women's Institute League between 1986-1996 counted for nothing. But he hit the highest score so IF THERE IS ANY FUCKING JUSTICE IN THE WORLD he and Andy will be paired again (sorry Andy).
Between their "Danter" (darts banter) the Emerald team shot more concerned glances to each other than a posh couple at a traveller wedding. First there was the geezer who had tightened pubes for hair who kept on trying to walk across the game, then our marker mucking up and then the bloke with no tongue who was yelping like he was gonna get the ride after somehow chatting up a bird without being able to speak.
The Peaky Blinder lost on the night but under the watchfull eye of "I was holding my breath" Dee the night ended with promises of greatness and practice, and free food.
The first night felt like a win despite a 10-6 defeat on legs.
Nothing beats the first day back in the big time!
Posted on the 17th August 2019 in the category sport
The first game of the season is always special, especially when the sun is out.
Ok, we got a harsh Premier League lesson but for a club (who invented the world's first football league) it was great to be back in the big time.
I went for coffee with my mate Jimmy Davis (T8PES) at One Stop (first time for everything) and he had a spare ticket for the McGregor Suite in the Trinity with his wonderful family.
Seeing all the McGregor memorabelia really was great, a timely reminder that we invented this shit!
Kick off was goose pimple raising, spine tingling stuff. But then 45 seconds reality set in.
McGinn's passing was off and Super Jack looked anything but super. Wesley looked like it was his second game in a faster league than he is used too. But despite the stepover which led the goal, Douglas Luiz looked our a best player. What a find he is.
And what a goal, what a celebration that was. It felt brilliant. Considering Bournemouth started playing for time in the 25th minute we had a good go. The signs are there, I refuse to believe there are any must win games at this stage of the season but we can't afford to lose against Everton on Friday night.
I loved the Championship which is so much better than the Premiership for excitement but we've got the cash to make a dent in the league.
I loved seeing so many familiar faces, I've been going down the Villa for 35 years now, it is and always was, is, and will be a big part of life. I also enjoyed seeing the Welsh manager and Scottish manager at the game. Even managed to get a picture with Ryan Giggs, who to be fair is one good looking geezer.
I've left London now, so can pop into pubs to see away games and hopefully go to a lot of home games. It is great to be back home. I knew it would be.
The Comeback of Steve Zacharanda is gathering pace, professionally and, most importantly, personally.