A weekend MADE in heaven as Doves and Legends in the Park rock up to Perry Barr
Posted on the 27th Jul 2019 in the category sport
There is something in the air in Perry Barr this weekend.
Music, laughter and bits of glitter blowing off girls' faces. It is festival weekend at Perry Park with MADE today and Inner City and Legends in the Park tomorrow.
Perry Park is a great spot for a festival and this year the fenced fun is taking place over by the BMX track so its even further away from "irate residents" - you know the ones, the ones who write their own placards saying they don't want new trams, buses, carnivals but they do want to keep a 1960s flyover.
Last year I lived next to Finsbury Park in London and I loved the festival days, it was so much fun watching the sheer mass of humanity leaving the park after their fun, well it was OK until one young lady came in the Twelve Pins gents and pissed all over my Converse. However, there was of course a Finsbury Park Residents Association who tried stop the joy, and even managed to stop swearing on stage! Needless to say I had to point out they, as they professed, did not speak on behalf of all residents.
Radio 1's weekender in 2005, headlined by Fatboy Slim, was the best of recent Perry Park festivals, Wireless came and went with Kanye West in a mask, and now we have these Birmingham based mega events, which hopefully become a regular fixture.
MADE is in its 6th year and its the second year the festival in its new North Birmingham home after moving from its Moseley-on-Sea (Digbeth) home, so its fun to see revellers in £100 hats and ironic t-shirts realising there are no pop-up craft beer bars or artisan coffee shops on the way to the park because Perry Barr has yet to be gentrified.
This morning at 10am I saw MADEns and a fella, all wearing some kind of iluminous get up with shiny shit on their faces in Greggs, One Stop. They were from Hereford and I welcomed them to Perry Barr before leaving them to get bored by some old dear banging on about which buzz to get to the venue.
Chase & Status are headling tonight and among the 100 plus artists include Lethal Bizzle, Hardy Caprio, Ocean Wisdom, Andy C, Kings of the Shadows, Mall Grab, Problem Central and Annie Mac. Early hours lovers of Brum cult club Sum Cellar will also be pleased George Hadley and Co will be on the 1s and 2s on the South Stage. Last entry is 4pm today and the dancing stops at 10.30pm.
Tomorrow promises to be paradise for over-30s especially. Inner City Live is being headlined by Doves with support from Johnny Marr, The Coral and Brum boys done good The Twang.
This is the only date Cheshire Indie legends Doves are playing in the West Midlands this year and their live shows are on a par with their consistently good albums and singles like There Goes The Fear, Pounding and Black And White.
Inner City Live have put some epic events on in Digbeth over the last few years including a memorable turns from Flaming Lips, Orbital and The Stranglers. Get tickets for Inner City Live here - www.innercitylive.co.uk.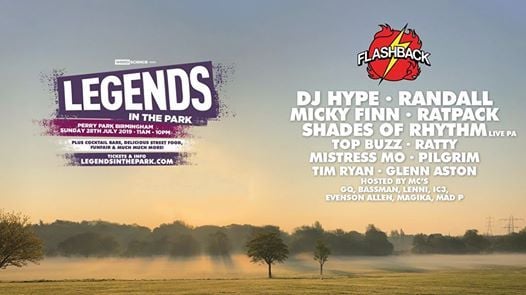 I, however, will be scorching the grass with my 43-year-old crazy legs at Legends in the Park.
There are more Birmingham 1990s club legends in the line up than a Tony De Vit house party.
The sheer talent on show demonstrates that Birmingham was a main player in UK clubland despite always being ignored in any documentary about the rave scene which concentrate on
the M25 and Manchester, for some reason.
Flashback, the rave revival night which first outing in Wobble's upstairs in 1997 I attended as well as its unforgettable Q-Club debut a few years later, is hosting a stage, as are the grown up glamour kids of Miss Moneypennies and those Sabbath shape throwers Sunddissential and Polysexual.
Also dropping more beats than a shoplifter with Parkinsons running away from an Apple store are Jeremy Healy, Sonique, Ratpack, Shades of Rhythm, Jim 'Shaft' Ryan, Tall Paul, DJ Hype and Fergie.
And it would not be a Birmingham rave if the man whose had more birthday parties than a some loaded 80-year-old triplets was on the bill - Bassman.